Partnership and Exhibition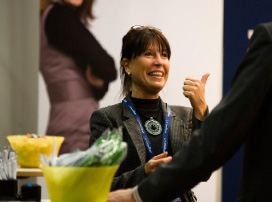 We are delighted to invite you to participate as a valued partner at the 6th Øredev Conference to be held at Slagthuset the 10 - 12 November 2010 in Malmö, Sweden.
Øredev brings together Developers and programmers, hackers and geeks, entreprise developers and managers, entrepreneurs, activists, designers, IT managers, trainers and educators.
Øredev is the Premier technical and user conference in Europe focusing on the software development process. No other event brings such a coverage.
What can you do together with Øredev:
Align yourself with the growth of Øredev and its distinguished speakers and industry leaders.
Increase your exposure and brand recognition in the market place.
Position your company as an industry resource. Build an image.
Give your company the opportunity to reach its sales goals through direct contact with customers and prospects.
Connect with a highly qualified audience of developers, testers and decision-makers at a hands-on, technical level.
Book your space!

 Send an email to: michael.tiberg@oredev.org
Prospectus & Further Details
The Partnership Prospectus can be download here.