We invite you
Monday evening Øredev invites you to the Malmö Kallbadhuset
This one's special! Try an exhilarating Scandinavian tradition and go for a sauna (85˚C) with a great view of the sea and then dive naked, or not, into the November waters. To make this evening perfect, enjoy a pleasant well-earned dinner in a charming atmosphere in the adjoining restaurant. http://www.ribersborgskallbadhus.se/
Wednesday evening Al Pitcher will do his show!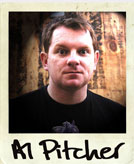 UK-born, Kiwi raised, Swedish resident here is Al Pitcher. Armed with a digital camera Al walks the streets everyday snapping at the world as he sees it in his own unique way and weaves these images into a new show every night!
Thursday evening
Do you have an itch you want to scratch?
A Birds-of-a-Feather (BoF) session is an informal meet-up where attendees group together around a shared interest and discuss without any pre-planned agenda. Curiosities are piqued or satisfied, questions posed or answered, and possibilities explored, among a casual group interested in the topic at hand.
Maybe you would like to bring up a subject?
Interviews on Øredev stage
We are pleased to welcome Richard Campbell and Carl Franklin of .NET Rocks for expert coverage of all that will be happening at Øredev, with their needle sharp interviews and joyful presence!

Xtra(ck)
Always nice to have a little Xtra fun!

We admit it: we have a kick-ass program. But Øredev also arranges all the parts that let you enjoy, re-energize, even relax while you learn. It also makes for better, easier network building. This year we boost the fun with a bonus activities track – the Xtra(ck) – running in parallel.
We invited:
Kathy Compton

Kathy is an artist, composer, and vocalist, making up the American half of the pop alternative duo, Panda Transport. At Øredev Kathy will present some excellent ways to create those endorphins, create creativity, but most of all she will discuss the power of music, outer vs. inner noise, and ones own voice and physical posture in the service of getting and staying real. See Kathy's sessions>>
Amy Archer

Amy has been a photographer since childhood. She specializes in nature and studio photography, as well as giving tailored instructional photography workshops. In addition to exhibiting, in 2007 Amy was a finalist for Best European Photoblog, and is the leader for Scott Kelby Worldwide Photowalks each year. Amy will offer a series of mini-workshops during the conference, covering photographic composition and creativity; braving the world outside the green (auto) mode. See Amy's sessions>>
Thierry Holweck

Thierry is an artist, composer, teacher, and filmmaker. A gifted rhythmic guitarist, he is the French half of the pop alternative duo, Panda Transport. Thierry also has a talent for elucidating the construction or deconstruction of things, whether it be a sound, an image or just an overly complicated vegetable. Thierry will present some of his favorite links between software driven technology and creativity in music and video. Explore topics such as the digital music language MIDI, creating stop-animation video and a unique musical instrument called the theremin. See Thierry's sessions>>
Mattias Sjöbäck

Mattias is a self-professed "coffee nerd," but with a rich depth of experience as a practitioner. He's a professional coffee connaisseur, occasionally making guest appearances as a premium coffee missionary! "I want to explain, educate everyone on and even politicize the difference between just coffee and real coffee – in terms of its taste, origin, ecology, sustainability, transparency and trade conditions," says Mattias We think you'll be able to taste the difference that comes with (shared) (coffee) knowledge! See Mattias' sessions>>
Lina Esa

Lina is a hypnotherapist and a member of the National Guild of Hypnotists. She will take you into a nice hypnotic stress free state in her session. But first she wants to explain to you that Hypnosis is NOT mind control and will definitely NOT make you bark (unless you want to)! Our mind is what makes us what and who we are. Take this chance to learn more about your beliefs, habits and behaviours and how YOU have the power to harness it or eradicate any limiting beliefs, bad habits and negative behaviours. Hypnosis is a great tool to accomplish this! See Lina's sessions>>
You!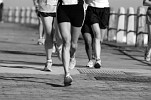 At 11h00 on thursday you can get your heart pumping a little and clear your head with a 5 km run. If you needed motivation: the first one finishing will win...
1st place: T-shirt and socks + 1h with a personal trainer to practice proper running technique.
2nd place: Running gloves + 45min massage
3rd place: Body composition analysis
Enjoy a quick trot around town, ending at the Kallbadhuset, where you can have a shower, sauna, dip in the ocean, and lunch. Then we'll bring you back to the venue by bus for more action.