Øredev Blog
2012-10-23 10:45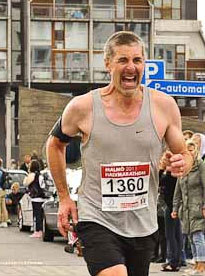 We are happy that Steve Jennings will be this year's host. Steve once described himself as a Muggle in the great Banquet hall of Hogwarts – this is how he feels when he enters the world of software developers. He sees all the magical energy he is surrounded by. He noticeably isn't a SW guy himself – and still he has created some amazing tools for developers and designers to help each other and interact. With Higomo you can unlock the value of what you do, know, and have. It is a true implementation of social currency.

Steve has a background from professional cycling. Then he moved on to business, started a nutrition company and later he moved on to one of the biggest food brands in the world. He decided to change lanes and literary make the world a better place, thus he co-founded GoodCred in Malmö. Higomo is their first release.

When Steve choses to do something – he does it. He is one of the most dedicated and energetic persons you can find. Some people call him an alchemist – this might just be true.
Write a comment!