Øredev Blog
2012-05-31 17:43
There are yearly events that maintain the same graphic profiling from year to year. Like a canvas strapped to the back of the frogger popping across the creek. Then there are events that switch it up with every turning of the annual clock-o. . Create and Destroy. Create. In case you've ever wondered how Øredev's graphics got that way, we thought it might be of interest to show you the evolution of a visual.
First comes the Theme contenders. Some suggestions were Big Data and Mastery. <Rebellion> triumphs. Creative conference manager, Emily Holweck, then takes her magic-est marker and paper and starts to doodle. (She's ALWAYS doodling)
This is what her imagination and sharpie record on the paper:
I see champagne and a phallic mushroom. and a piece of cheese. Emily gives this doodle to the design team. She describes what she wants, what the doodle <means> and what she wants to communicate through the visual. She tells the doodle's story. Design team takes the story, adds the colour and comes up with this: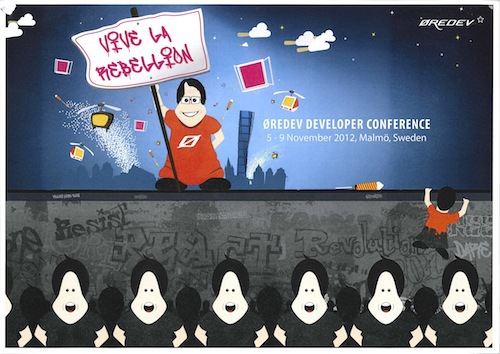 Vive le rebellion. People talk about how they feel when they look at it. I felt like i wanted to give the li'l guys on the bottom some vitamin D and book them 30 minutes at the tanning salon. All the reactions are collected, Emily and the designer collaborate and more doodles happen, like this one: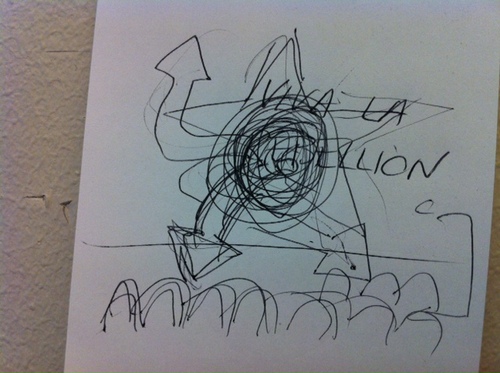 Now there's a star, the li'l guys remain, the tag line gets more space time. It's crazy arrow time! It goes back into the magic pot and comes out like this and 20, 000 copies are printed: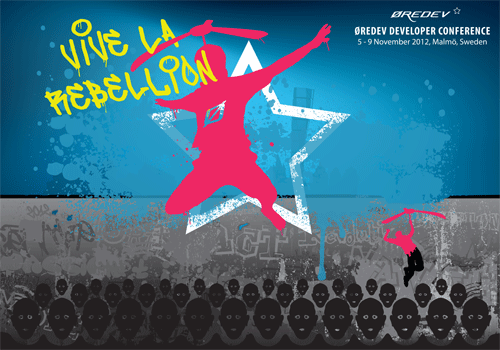 Crazy propellerhead guy and crazy grafitti font. Was Banksy here? Some things remain. Some things go unchanged: Turning Torso, a reliable friend no matter what the weather. It makes me think of the permanently capsized boat as one crosses the Öressund Bridge. I always think "Why won't that boat just sink already?" (But that's a lie, because I always hope it's there.. Please don't die boat! Please don't die!)
/Kathy Compton
Write a comment!