Øredev Blog
2012-12-19 11:56
2012 is coming to its end and it is time for reflections and outlooks.
Øredev was held for the 8th time, and it has been developed year by year. There is a big team behind the conference where of a couple of persons work all year round. During the spring we gather a program committee that will spend 800 hours to create the program each. During the autumn lots of technical and administrational work is done. During the conference we engage dozens of volunteers and technical staff. We are very thankful for everyone creating this wonderful conference in November each year.
During the years we have seen, created and followed trends within software development. Øredev was an early adopter of agile methodologies. New technologies as Cloud and NOSQL were immediately present when they came. This is thanks to the program committee spending 800 hours each year to create a program for you delight.
A trend we have seen and adapted to be closer to the user of the products we create. The web and UX tracks have been added to the Øredev family recently and 2011 we had the theme Enter Userverse to embrace this shift. This year the web track was one of the most popular.
Let us see what 2013 will bring us. The next Øredev 2013 program committee starts their work in February. In March the call for papers is open. And in June we will release the program for Øredev 2013, which will be held in Malmö on November 4-8.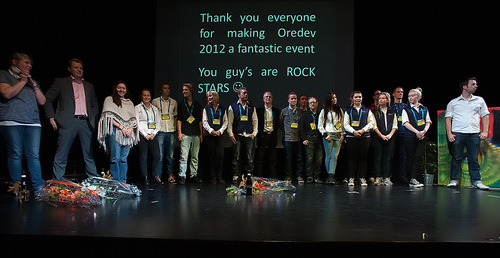 Write a comment!