Session: Run!
Thursday, 11:20 - 12:10
Track: Xtra(ck)
At 11h00 on thursday you can get your heart pumping a little and clear your head with a 5 km run. If you needed motivation: the first one finishing will win a BIG thing! Enjoy a quick trot around town, ending at the Kallbadhuset, where you can have a shower, sauna, dip in the ocean, and lunch. Then we'll take a bus back to the venue for more action.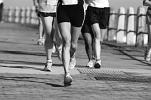 You will be the ones running this activity! Isn't it good to be in control and get fresh air!