About us
ØREDEV was founded in 2005 by Jayway, a company comprised of and focused on specialists within IT. Øredev inherited Jayway's vision and philosophy.
Our Vision
Øredev has its origins and focus on the software development process, from programming to project management. We work to organize an event based on the concept of quality - for learning and networking - Sharing Knowledge.
Our Philosophy
Having fun!
We are passionate about our work and organizing the Øredev conference is a thrill.
Each year is unique, with new topics, new speakers, and new challenges. As such we have to constantly evolve and reinvent ourselves. This is both what makes our work fun for us and why we believe others having fun as a result of work is so important.
Øredev Conference committee
Atmosphere and communication are designed by the Øredev conference committee, which is comprised of volunteer developers, administrators and finance professionals. All the little things, from the food you eat to the staff clothes and the entertainment you enjoy as part of the conference, the conference committee completes the outfitting of Øredev, bringing the little extra to an impressive program.
Øredev Program committee
Each session topic and speaker is hand selected by the Øredev program committee. With an aim towards diversity, the committee is composed of volunteer developers, testers, and leaders. Only the most relevant sessions presented by speakers known to deliver critical, technical information in an understandable manner make it on the program at the Øredev conference. Øredev is independent of commercial partners and members of the program committee are free to choose whom they like to invite.

Check out the programme Committee 2011: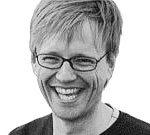 Olof Adell
My name is Olof and I am a web developer to the bone. Almost to the point where I think every project is best realized with HTML and javascript. A part of me wishes there was no such thing as "Server side".
For many years, I haven't felt like a REAL programmer, but now that Javascript is taking over the world, all of a sudden I find that I'm in the middle of something really exciting. And not just exciting to me, but to the whole business. Technologies such as HTML5, jQuery (and other libraries), Social media, node.js, Cloud Computing and many others move the web to the center of most IT projects.
Needless to say, anything web related is also very close to the user and the user experience is an important part of every web project. All in all, this is a very exciting time to be a web developer, which this year's program will certainly show.
If you have any web related suggestions for Øredev 2011, don't hesitate to contact me!
Peter Von Lochow
I'm a .NET consultant employed by Jayway. I've been working with .NET my entire career, a Framework that is constantly evolving. This has given me the opportunity to leap from technology to technology, learning something new every day.

But could it be, that with all of these great tools and technologies, we now and then forget about something? As any project make progress, it's easy to get caught up in technology decisions and discussions. Suddenly this can become the focus instead of that what really matters, the end user.

For me, Enter Userverse is coming back to basics. To let the end users needs and requirements drive what technology to use. To always ask yourself - am I selecting Component X Kickass Edition just because I want to use the latest technology, or does it actually add real value to the user?

As a member of Øredev's program committee, my goal is to combine my love for new technology with the spirit of Enter Userverse to create an awesome conference.
Sigurdur Birgisson
My name is Sigge and I am a Test consultant at Jayway. As a tester, I always try to have a holistic view and open mind about the software project at hand, and always try to apply the best possible approaches and tools to gather information needed to satisfy for good testing.

I really like the diversity in my role as tester. One minute I can be questioning some business requirement from the end user's perspective towards the business people that know best, while the next minute consists of debugging some sql statement together with a developer to fine tune performance. Whatever the situation, I always try to figure out the most efficient way of solving the problems.

While my scope in testing is broad, I value the context-driven approaches to testing, using the most appropriate tools in any setting. On the other hand, the testing context of the agile project, including automation and sapient testing in a combined symbiosis, is something that I really like to explore.

To help your team deliver valuable software for the users, these will be two of the areas covered in the program of this year's conference.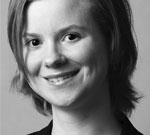 Ester Ytterbrink
I am Ester, and I am a geek. Code is my profession and one of my passions. Jayway is the company where I work as a smart phone developer (specializing in iOS) and as a consultant. As a member of the program committee for Øredev I am responsible for the sessions on smart phone development. I am also an Øredev fan.

This conference can only be experienced. My job is to find the best topics, sessions and speakers possible for those, like myself, who think that great computers should fit into your pocket. (Or in your TV-box, toaster, car, coffee table etc. ) My goal is to make smart phone developers share knowledge independent of what their favored platform is. This is, while still thinking that Øredev is a especially great conference for [insert smart phone brand/ platform] developers.

Smart phones often, literary, end up in the hands of the end user, therefore I think that the topic for this year's conference is a great fit. I hope that you all will join me on the journey into the Userverse. Please contact me if you have any ideas on speakers, sessions or topics. See you at Øredev 2011!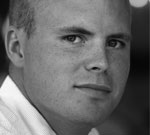 Chris Hedgate
CEO at Spelkultur i Malmö AB
I am an experienced software developer that works as much with people as I do with technology. I work as the CEO of Spelkultur i Malmö, a company that develops casual online games with a big focus on social components. Prior to this, I worked for many years as a consultant and agile coach; helping organizations, teams and individuals create high quality software. I strongly believe that the best results are achieved through collaboration, so therefore I focus a lot on creating high-performing teams.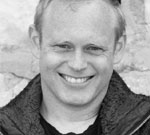 Håkan Reis
I work with user experience. It took time to realize it. I discovered this working through ignorance, up to acceptance and enlightenment. Now I try to walk every fellow back-end software developer to meet with their end user. To me, there is nothing as fulfilling as seeing the user's goal shine through the eyes of the developer.

My work spans from drawing up sketches for a complete new application, be it web, client or mobile application, all the way to helping out with good old user studies and user testing. But even if user experience is my main focus I still have a foot in developer land, currently in mobile development with Windows Phone 7, and yes, I think the new platform is an excellent addition to the smartphone business.

Since I first heard of agile software development I have also been focusing on getting the user experience tools into the agile process. I have a strong belief that interaction design and user experience work should be done side by side with the developers and not as separate discipline.

Enter Userverse, to me, is exactly about this, making sure that there is a purpose for what we do in this business and that that purpose is fulfilling the end user's goal with minimum effort.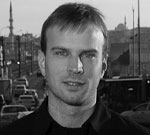 Rickard Öberg
My name is Rickard Öberg, the founder of Qi4j.org. I also work as CTO at Streamsource, building Case Management software based on Systems Thinking. As an architect and developer of our products, I have to be constantly aware of everything from infrastructure details, application frameworks, network communication, and UI presentation. For me it's important to get both a broad overview of the various aspects of our product, but also be able to dig down into the nitty gritty details.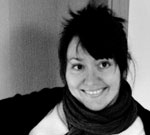 Emily Holweck
My name is Emily, I am in charge of the logistic, marketing and communication at Øredev. I create the outfit of Øredev, what you see on the website, text and graphics, the presents you receive, the food you'll eat … It's a big task that's really fun work to do.

I have the luck to express my beliefs through my job. I loooove when people come together and make a difference.
When the conference starts, I can feel the energy, it's wonderful and also a bit of pressure!
Wonderful because I can see all the connections, the magic of Sharing Knowledge happening. I feel flattered because you came to our party! I see you, you, you, you and you, I never see a crowd but many individuals, it's very powerful. It's a bit of pressure because everything has to work from one moment to the next! Time is going forward, it's not like I can press "pause" on 1400 persons.

I have no lust for organising "just another conference". Therefore, Øredev is a "green" conference (as much as we can), meals are served on fallen banana leaf plates and the cutlery is made of corn starch. Coffee is organic and fully traceable, and vegan fare always available. We want to change the world together with you. Combined, our partners and the speakers, gave enough money to Unicef's project "Schools For Africa" http://www.schoolsforafrica.com/ so they can build 7 schools in Malawi. Our aim is to renew ourselves all the time and it is why we change our graphic profile; so we have to rethink everything, almost from scratch.

In the program committee, I organise the Xtra(ck). If you feel like you need to relax, you can take a break and participate in a "no brainer" session.

My advice for a better Øredev experience: keep an eye on the extra activities … And stay into the evenings!

You can contact me:
emily.holweck@oredev.org, 00 46 (0) 40 602 31 03

I have only one regret: Øredev is too short! You are more than welcome to come to speak with me during Øredev!
Steen Lehmann
I'm the CTO for the Danish branch of Jayway. Since I got my first computer, a Commodore Vic-20, I've been a hacker/coder on multiple platforms and languages. I like creating things that are elegant and simple, inside and out, as rapidly as possible (but no faster!). This means I take a keen interest in agile/lean ways of working, how teams perform, information and interaction design, software architecture, operations, and much more. Shortening the feedback loop, on all levels, evolving and molding systems until they solve the right problems for the right people, and no more.

For Øredev 2008 and 2009 I planned and presented the language tracks, and I've been a program committee member since. My latest work for Jayway includes building and deploying RESTful backends for mobile applications using Ruby on Rails and Vim, and, recruiting sociable geeks.
About you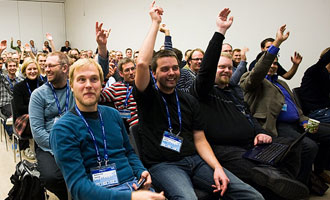 Learning and networking, i.e. Shared Knowledge is powered by Øredev attendees' passion for what they do.

Composed of world-renowned speakers, industry representatives, professional developers, testers, web developers, leaders, and other engaged participants, the Øredev conference community is the fuel to our flame - you truly make the conference.