Frequently Asked Questions
The Øredev conference, courses and tutorials will be held at the Slagthuset, Exhibition & Convention Center, in Malmö Sweden.
From Monday 7th to Friday 11th of November.
The opening hours are the following:
Monday 7 November: 8h00-18h00
Tuesday 8 November: 8h00-18h00
Wednesday 9 November: 8h-22h00
Thursday 10 November: 8h-22h00
Friday 11 November: 8h-18h00
Luggage storage
You will find free and secure storage facilities at the entrance of the conference hall. Here you can store common items, such as overcoats, backpacks or suitcases. The luggage storage facility does not store money and cannot be held responsible for more valuable items.
The congress hall is fully accessible to disable persons.
In addition, arrangements include the possibility of bringing helpers to the conference, please contact us.
Parking
There is plenty of paid parking all around the convention hall. The parking is easily paid with coins or credit card check the map and read more about the parking facilities.
What should I bring to the conference?
Some tutorials and courses require the use of a laptop, we will inform you about what you should bring. During the conference, we will provide you paper and pen to take notes and enough food and coffee to survive.
Language
The official language of the conference is English.
Charge your mobile
The luggage storage facility offers the possibility to recharge your mobile phone. Bring your charger!
Internet
There is a Wi-Fi network available in the exhibition hall. You will find the login and password at the information desk if necessary.
Disclaimer and insurance
Øredev accepts no liability for any injuries/losses incurred by participants and/or accompanying persons, nor loss or damage to any luggage and/or personal belongings. Participants are advised to take out their own personal insurance.
Passports and visas
Participants are advised to make their own arrangements with respect to entering Sweden.
Participants who require an invitation -in order to get a visa- will receive it after payment of the conference fee.
The strange letter Ø
If you don't have the character Ø on your keyboard it's a little bit tricky to type Øredev.
But if you know that the Unicode is 00D8 - then it will be much easier.
On Windows XP you just hold the Alt-key down and type 0216 and release the Alt-key. If you want to know more about Unicode 00D8; click here .

We wish you an excellent stay in Malmö. If you didn't find an answer to your question here, please send your request to: info@oredev.org
Tourist Information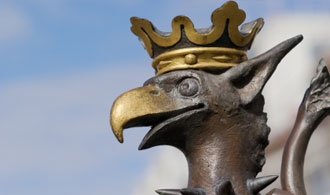 Malmö
Malmö is the hub of the Skåne region, Sweden's third largest city and the commercial centre of southern Sweden. Approximately 293.000 people live in Malmö at the centre of the new Øresund Region with around 3.5 million inhabitants.
The Danish capital Copenhagen is less than half an hour away and connected to Malmö by a convenient bridge which opened in 2000. Malmö is situated only 20 minutes by train from Copenhagen Airport in Denmark.

The airport is connected to Malmö by the Øresund Bridge and trains run around the clock between Malmö Central Station and the airport.
Climate
Malmö average temperature in November is +4ºC. So, don't forget your coat! We had snow in 2008!!!!
Time zone
The time zone in Malmö is GMT + 1 hour. Daylight Saving Time is used during the summer (end of March - end of October).
More information about Skåne: http://www.skane.com
Electricity
The electrical current in Sweden is 220V/50 Hz. Round, european style two-pin plugs are used. Appliances designed to operate in 110/120 V need a voltage converter and a plug adapter.
Banks and post offices
Banks are open between 09.30 and 15.00 weekdays. Some banks in central Malmö are open 09.00-17.00.
Currency
The official currency in Sweden is Swedish Krona (SEK). Currency rates can be reviewed on www.xe.com
Shopping
On weekdays, shops are generally open between 9.00 am and 6.00 pm, on Saturdays between 9.00 am and 5.00 pm. Some department stores stay open until 8.00 pm daily.
Malmö City tourist website: www.malmo.se/tourist