Denise Jacobs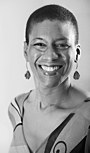 Denise Jacobs adores being a Speaker, Author, Web Design Consultant and Creativity Evangelist. Most appreciated on Twitter as @denisejacobs for her "Great Resources", she wrote The CSS Detective Guide, and contributed to InterAct with Web Standards and Smashing Book #3. Her articles encourage people to express their creativity as they Banish Their Inner Critic and Reignite Their Creative Spark. Her latest project encourages underrepresented groups to Rawk The Web by becoming visible web experts.
Website
Twitter
Sessions
Friday 11.10 - 12.00 in: Ken Lee
There is no shortage of projects that necessitate our ingenuity in the tech industry. Unfortunately, although we all have moments of being lit up with creativity, often the time of being in the state of productive creative flow is all too short, and our projects suffer for it. Much like elite athletes, we need to exercise discipline to be able to get into the "zone" at will and consistently produce great results. In this workshop we'll explore ideas and practices for regularly gathering sources of inspiration, and how to more easily get into and prolong creativitely productive states, and leverage them to generate and execute excellent work and be even more awesome at what we do.
Tags: Agile Creative Fun Wetware
Thursday 11.10 - 12.00 in: Gangnam Style
If you're working on a large project with a lot of hands in the CSS pot, then your CSS may be doomed to code bloat failure. Scalable and modular CSS architectures and approaches are the new hotness and rightfully so. They provide sanity, predictably and scalability in a potentially crazy coding world. This session will give an overview of some the most popular approaches, including OOCSS, SMACSS, CSS for Grownups, and DRY CSS as well as discussing some general principles for keeping your CSS clean, optimized, and easy to maintain.